| | |
| --- | --- |
| | Electronics Today Contents |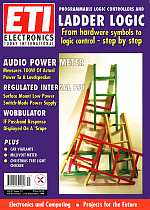 Contents for Volume 27 No. 13
Next Issue 1st January 1999
Programmable Logic Controllers and Ladder Logic
Programmable logic controllers are in effect dedicated computers designed to control networks of relays in automated machinery. The specialised programming language is can be downloaded from a PC, and looks disarmingly like an ordinary schematic. Stephen Fleetham explains the difference.
A Microcontroller-Based Programmable Logic Controller
This logic controller and interface board designed by Stephen Fleetham provide a practical means to trying some of the principles in the Ladder Logic feature in this issue.
Christmas Tree Light Tester
No more bulb-twiddling and pine needles in the finger's with Bart Trepak's electrical field detector that singles out the trouble-making lamp. It can also be used as a continuity tester for small component.s
Audio Power Meter
Robert Penfold's audio meter measures actual power, rather than volt-amperes. Designed to measure audio power delivered to a loudspeaker, it can measure ac (or dc) power over a range wider than the audio frequency band.
Car Vigilante
Bob Noyes's Car Vigilante watches for traffic approaching from the rear when your car is parked and switches on your parking lights (or extra parking lights) to give your car added visibility.
Timing In Electronics (Part 7): Timing Systems
For special timing requirements there is scope for designing and building your own system. Owen Bishop has designed an example of a practical timing circuit using techniques described in this series to boost a home security system and other process control applications.
Index for 1998
The current year's contents index for ETI.
A Radio Wobbulator
The alignment of radio receivers can be optimised with Raymond Haigh's low-cost unit which enables the radio's IF response to be displayed on an oscilloscope screen.
Regulated Battery PSU
This small surface-mount switched mode power supply was designed with the Wobbulator in mind, but it has many other applications. It is a cheaper alternative to PP3s as an internal power supply for most battery-powered projects.
The pcb file for this project, in EDWIN format, is available for download.
Audio Millivolt Meter
Tony Sercombe's audio millivoltmeter is designed to read AC signals accurately over the audio range. It has six ranges and reads up to 50kHz.
Practically Speaking
Terry Balbirnie describes how a reed switch can be operated by an electric current.
---
To link to back issues, go via the home page
---
Copyright © 1998 A. S. and H. P. Armstrong