| | |
| --- | --- |
| | Electronics Today Contents |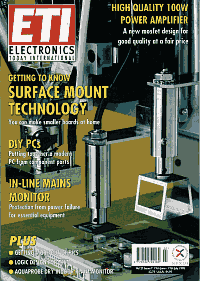 Contents for Volume 27 No. 7
Getting to Know Surface Mount Technology
DIY construction with surface mount components is becoming increasingly popular. Robin Abbott describes the basic processes and with two circuits to build, plus an insight into industrial big-machine surface mount techniques.
In-Line Mains Monitor
Terry Balbirnie's monitor is designed to be wired into the mains feed of vital pieces of equipment (such as the household freezer) and sound an alarm driven from its own batteries if the mains supply fails for any reason.
Getting MORE out of PICs (Part 2)
Robin Abbott continues his new series on more advanced PIC programming. This month: diagnostics, interrupts, and background communications, with a development board for the 16C74 and other 40-pin PICs, on which the interrupt driven serial routines will work.
Self extracting zip files are available for download. There are three files, which will extract under DOS or in a DOS box under Windows.
1) Download PIC1
2) Download PIC2
3) Download PIC2b
DIY PCs
PC-construction expert Robert Penfold starts a short series on building a PC at home. This month: the basics of buying compatible parts and putting them together. "Simpler than it used to be - but look out for the boobytraps."
A High Quality 100W Mosfet Power Amplifier (Part 1)
David White has researched mosfets and bipolar junction transistors to design his new 100W power amplifier, and decided on the latter. Properly selected and designed, Mosfets allow a high quality response without multiplying costs up out of reach.
Contemporary Logic Design for Test
The logic system in some modern products is so complex that traditional design and test approaches do not work and new tactics must be found, as Andrew Armstrong describes.
Timing in Electronics (Part 2): More about Astables
Timing signals are used in many electronic systems, and can vary from the very accurate to the approximate. Here Owen Bishop examines variations on the astable circuit, and build an astable on a different principle.
Aquaprobe
Designed by Bob Noyes as a low cost project that would be both useful and the focus of some electronics principles, and not raise any political correctness or health and safety issues. Except the health of your potted plants - the Aquaprobe will tell you when they are drying out.
Practically Speaking
Terry Balbirnie continues a set of short articles on fuses. This month: chassis-mounted, case-mounted and PCB fuse holders.
---
To link to back issues, go via the home page
---
Copyright © 1998 A. S. and H. P. Armstrong