| | |
| --- | --- |
| | Electronics Today Contents |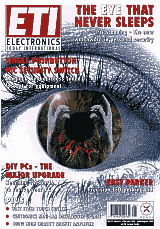 Contents for volume 27 No. 8
The Eye That Never Sleeps
Biometrics is the science of pattern analysis of living structures. The most complex and stable structure on the surface of the human body is the iris of the eye. Guess which part is looking out for your security . . .
Getting MORE out of PICs (Part 3)
Robin Abbott continues his new series on more advanced PIC programming. This month: Driving multiplexed and non-multiplexed 4-digit, 7-segment LED displays, with circuitry to drive a multiplexed display with one pin per digit, and a non-multiplexed display with just two pins of the PIC.
A self extracting zip file containing the software is available for download. It will extract under DOS or in a DOS box under Windows.
DIY PCs: Part 2: Major Upgrades
PC-construction expert Robert Penfold continues a short series on building PCs at home with the information on how to take an older PC and bring it up to date with new components. And which PCs are worth upgrading, and which ones are better retired.
Easy Parker
If your garage always seems a bit short for your car, Terry Balbirnie's distance sensor with three LED indicators should aid with precision parking and help to keep those picturesque dents in your bumper down to a stylish minimum.
A High Quality 100W Mosfet Power Amplifier (Part 2)
The second and final part of David White's mosfet power amplifier describes suitable power supply circuits, loudspeaker protection and testing the finished circuit.
Single Pushbutton Electronics Security Switch
Security lockout switches for electronics such as computers and videos usually include a bulky keypad. Bart Trepak's PIC-driven lock uses repeat operations of a single push-to-make switch.
Tiny Traffic Lights
Terry Balbirnie's mini light sequencer has "real traffic light" sequence timing and can drive a variety of led or filament lamp sizes. Useful for modellers.
Fast Fivers 10 - Touch Lamp
Another low-cost quick circuit from Owen Bishop. This one can be mounted in a small transparent box.
Centronics Mini-Lab data logger/controller - Adding more analogue input channels
A 1998 update to the Dr. Pei An's Centronics Mini-Lab, published in ETI Vol. 26 No. 2, to add more analogue input channels to the logger, with a practical circuit to enable it to read 128 analogue inputs.
Great-Grandson of 555
Introducing the ZSCT1555 from Zetex Inc., a new pin-compatible version of the 555 that features single-cell operation down to 0.9 volts.
Book Reviews
Filter Design by Steve Winder; Oscillator Circuits; Amplifier Circuits; Detector Circuits; Converter and Filter Circuits: four circuit reference titles by Rudolf F Graf.
Practically Speaking
Terry Balbirnie concludes his set of short articles on fuses with Residual Current Devices and circuit breakers.
---
To link to back issues, go via the home page
---
Copyright © 1998 A. S. and H. P. Armstrong