| | |
| --- | --- |
| | Electronics Today Contents |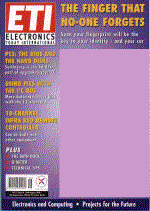 Contents for volume 27 No. 9
Practically Speaking
Terry Balbirnie describes how to trim and mount rotary pots and rotary switches correctly.
The Fingers That No-One Forgets
Fingerprints are a familiar means of identification, but they are not very easy to identify automatically. Neural networking and several new hardware developments are all part of this fast-developing security technology.
Getting MORE out of PICs (Part 4): The I2C Bus
The Phillips/Signetics I2C bus standard is now used by around 1,000 ics to send data by clock and data signal rather than via a 16-bit data bus. In the first of two articles, Robin Abbott describes how to drive the I2C bus from a PIC.
DIY PC - Part 3: The BIOS and the Hard Disks
The main cause of problems with a newly constructed or upgraded computer is completing the set-up and getting the operating system installed. Robert Penfold looks at some teething problems, and how to cure them without feeling like a dummy.
Recruitment Today, or 'Which Engineer'?
ETI visits the Engineering Recruitment Show and finds that employers are still looking for a sound skills base when interviewing.
18-Channel Infra-red Remote Controller
Pei An describes a general purpose infra-red remote receiver which could be implemented in equipment where remote control is needed. Its partner is a handset transmitter using the BL9148/BL9150 chipset.
A 'Q' Meter Adapter
Raymond Haigh's adapter circuit allows the Q factor and inductance of RF coils to be measured with a low-impedance output signal generator and a high-impedance electronic multimeter.
Technical Tips
Andrew Armstrong dips into his collection of useful design fragments, including microamp voltage regulation and temperature reduction for solenoids.
Bart's Bath Duck
It looks like an ordinary illuminated duck, but Bart Trepak's water safety sensor may save you from a painful scalding (or freezing) on bath night, and provide that colour coded use for a blue LED that you've always wanted to try.
Timing in Electronics (Part 3): The Long and The Short
Owen Bishop describes the use of divider chains to produce prolonged timing periods, with two demonstration boards: a divide-by-60 chain and a 15-minute timer are included, with programming examples for the 4018, 4541 and Basic Stamp.
Review: osziFOX Handheld Universal Storage Oscilloscope
This 20-MHz scope looks very much like a 'pen'-sized multimeter and has a lot of functionality in a small space.
---
To link to back issues, go via the home page
---
Copyright © 1998 A. S. and H. P. Armstrong