| | |
| --- | --- |
| | Electronics Today Contents |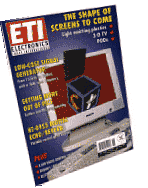 Contents for Volume 27 No. 6
The Shape of Screens to Come
Andrew Armstrong follows up last month's introduction to advanced display screen technologies by reporting on Cambridge Display Technology's Light Emitting Plastics, Brookhaven National Laboratory's Planar Optical Displays (PODs) and Philips' new 3D TV displays.
HT-8955 Digital Echo/Reverb
This is a new echo unit by Robert Penfold based on the HT-8955 delay line chip which produces delays of up to 800 milliseconds, and the 41256 D-ram. A variable delay control also enables short echoes down to a reverb effect, giving maximum flexibility.
A Simple Signal Generator
This economical unit by Raymond Haigh gives continuous coverage from 155KHz to 30MHz. The output can be modulated, and a 1kHz spot frequency is available for checking audio stages.
Getting MORE out of PICs
Robin Abbott begins a new series of more advanced PIC programming, centred around his popular PIC programmer, with additions. In this issue: a development board for 18-pin 16C84 or 16F84 devices.
For downloadable files, see concluding part.
Headlight Delay
Terry Balbirnie's automotive circuit will illuminate you to your door (or out of your garage) after dark by means of your car head headlamps, which will automatically switch off a few minutes later.
Electronic Timing - Part 1: Basic timing
"The time constant of a circuit is no more precise than the least precise of the components." RC timing circuits can be more accurate than you might expect, as Owen Bishop describes.
Thomas Edison's 1885 Train Telegraph System
George Pickworth describes the short-lived but revolutionary first commercial two-way telegraphy service to passengers on moving trains by a telegraph line or cable.
Review: Electronics Principles 5.0
The new, extended version of EPT Software's educational programme now includes PICs and Maths on over 500 screens at substantially the same price as the previous version.
UHF Model Radio Control System - Part 2
In the second and concluding part of Geoff Pike GI0GDP's UHF radio control project, Geoff describes the construction and casing of the Transmitter and Receiver modules, the testing of the boards and the construction and connection of the antennas.
"Six-and-One" Mini Six-Interval Games Timer
Roy Bebbington's little portable LED-driven timer makes games and quizzes fast and friendly. You can select six different time intervals, from a few seconds to half an hour or more, with an alarm at the end and an LED at half time.
Practically Speaking
Terry Balbirnie begins a set of short articles on fuses. This month: anti-surge fuses and ratings.
---
Mods Mods Mods
None reported.
---
To link to back issues, go via the home page
---
Copyright © 1998 A. S. and H. P. Armstrong